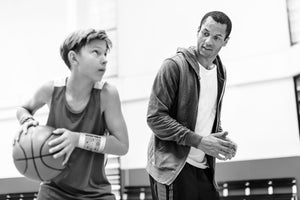 Coaches Corner [Basketball]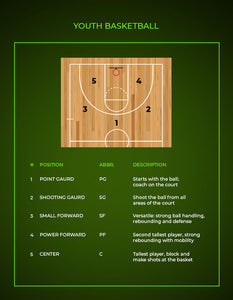 Position descriptions:
[1] Point Guard (PG):
responsible for starting and organizing the plays on the court. PG needs to communicate with the team and act as the player-coach.PG needs to have excellent ball handling skills, dribbling and passing to create plays and control the offensive game.

[2] Shooting Guard (SG):
strong shooting threat from all over the court, needs to muscle through screens and win rebounds, and will handle the ball almost as much as the PG.


[3] Small Forward (SF):
versatile and scrappy with strong defensive skills able to run quickly on transitions, set screens for PG and SG offensively, and pull the shooting options out wide to the perimeter for 3 pointers


[4] Power Forward (PF):
covers more of the court than a center but is still classically near the basket and in the mid-range area providing solid rebounding, set screens and pick & roll plays, with strong defensive guarding in the post. Recently, a "stretch fours" option spends more time on the perimeter providing solid 3-point shooting percentages.


[5] Center (C):
tallest and strongest player who dominates under the hoop, blocks shots and gets the rebounds.Centers are the last line of defense protecting the paint, and needs to be comfortable with physical play as there will be heavy contact under the hoop, however Centers do not need to be as quick as other positions.


Check out our shop for a variety of formation bands and accessories
5v5 Basketball Game Template