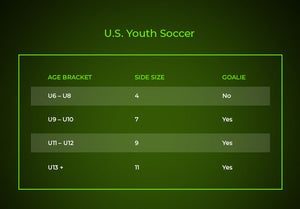 U.S. Youth Soccer is the largest league in the U.S. and follows the following structure (U6 is for 6 years old and younger):
FULL SIDE
A "full side" match consists of 11 players on each side including one goal keeper (GK).
SMALL SIDES
Youth teams typically start with smaller sides and work up to larger formats.
POSITION EXAMPLES
Below is a brief description of common positions as shown in the image on the left. (Note: This is NOT a formation, positions 2 & 3 and 7 & 11 typically play the same position on opposite sides)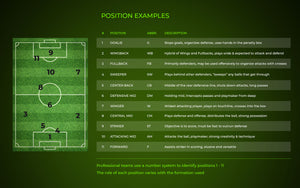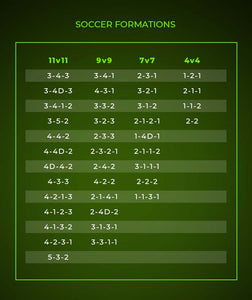 Formations
Formations are described by the number of positions in each line starting with the defensive line working towards offense; the goalie position is typically assumed.

The table below shows some of the most common formations where "D" indicates the line is in the shape of a diamond.


Formations for Coaching Band
Coaching Band focuses on young players as they develop their understanding of positions, formations, and overall spatial awareness
For soccer, the target range is 4v4 through 9v9 sides, or 5 – 12 years old
Additional formations will come online based on customer demand
Customized Coaching Bands available by contacting Lara@StumblingGOAT.com
Check out our shop for a variety of formation bands and accessories