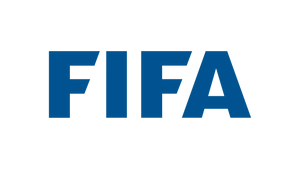 Soccer organizational structure - FIFA
FIFA is the international governing body for football, a.k.a. soccer. Founded in Paris in 1904, it is the oldest and largest organization of it's kind. FIFA is comprised of more than 200 countries and 211 affiliated associations organized into 6 confederations: Africa (CAF), Asia (AFC), Europe (UEFA), North/Central America & Caribbean (CONCACAF), South America (CONMEBOL), and Oceania (OFC). FIFA is responsible for the following

– FIFA World Cup

– Olympics

– Confederation Cup, champion from each confederation as prelude to World Cup

– Under-20 age level and under-17 age level World Championships

– FIFA Beach Soccer World Cup

– FIFA Futsal World Championship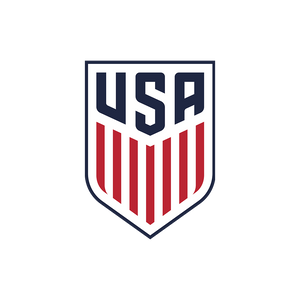 FIFA U.S. Soccer organizational structure
The U.S. affiliate for FIFA is the U.S. Soccer Federation belonging to the CONCACAF confederation. It has 112 Organization Members including:
(10) National
(5) PROFESSIONAL:
– Major League Soccer (MLS)
– National Women's Soccer League (NWSL)
– National Independent Soccer Association (NISA)
– North American Soccer League (folded 2017)
– United Soccer League (USL)

(4) ASSOCIATION:
– American Youth Soccer Organization - AYSO
– US Adult Soccer
– US Club Soccer
– US Youth Soccer – USYS

(1) AFFILIATE
– US Youth Futsal


(90) State including (33) Youth/Jr Soccer Assoc
(12) Other National:
(5) DISABLED SERVICE ORG:
– American Amputee Soccer Association
– Cerebral Palsy Soccer
– United States Association of blind athletes
– United States Power Soccer
– USA Deaf Soccer

(2) ASSOCIATE:
– United Soccer Coaches
– United States Armed Forces Sports council

(5) OTHER AFFILIATE:
– Asociacion Nacional Futbol en Estados Unidos - ANFEEU
– United Futsal
– United States Specialty Sports Association - USSSA
– US Futsal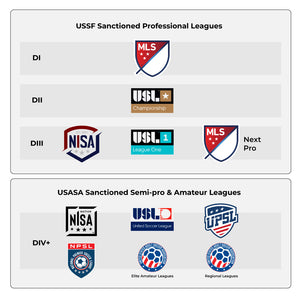 U.S. Men's adult soccer leagues
U.S. College Soccer Leagues – from NCSA Sports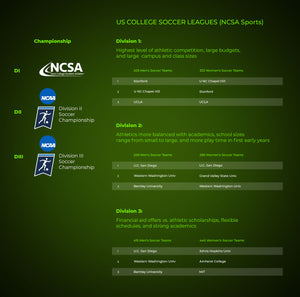 U.S. Youth Soccer Leagues - Boys. Competitiveness varies greatly by region.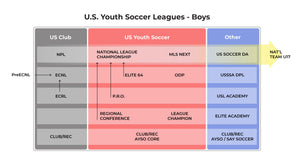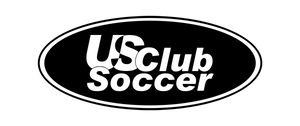 U.S. Youth Soccer Boys: US Club
2nd largest youth soccer league in the U.S., registration is done at the National level and includes local, regional, and national leagues; focus is on "Player First" emphasizing the development of each individual to his/her full potential. iD2 National Identification and Development Program helps elite youth soccer players be identified, developed, and scouted for the U.S. Soccer's National Team programs
– ECNL Boys: U13+ Elite Clubs National League is a relatively new program for boys and is evolving in it's competitiveness

– ECRL Boys: ECNL Regional League offers a lower commitment and travel

– preECNL Boys: coming soon as a new program for U11+

– NPL: U11+ National Premier League provides a unified league for boys and girls under one national competition platform

– ENPL boys: Elite NPL for boys offered postseason opportunities for top NPL and ECNL Boys teams; 2020 NPL postseason was cancelled due to COVID

– Club: (U11)+ and Rec & Super rec (U6+) availability depends on region; limited commitment and travel and Super Rec can receive player passcards if so desired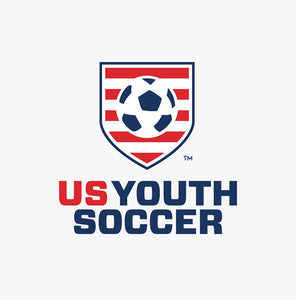 U.S. Youth Soccer Boys: USYS
The largest youth soccer program in the U.S., each state runs their own "State League" which qualifies into the Regional Level and then the National League; focus is on team first and "Earning your place" for your team
– National League Championship U13+ regarded by many as the most prestigious national youth soccer tournament in the U.S. with 185K players on over 10K teams competing nationwide with the final Championship an opportunity for top collegiate coaches to scout top talent

– Regional Conferences: U13+ 13 Conferences provide the primary league competition for teams Regional Championships, top 4 Regional Champions compete in the Nat'l Championship

– P.R.O.: U14+ top 48 teams in the prior season's Conference qualify (12 per 4 regions), teams compete in groups of 6 with top 2 going to Nat'l Championship with the 4 Regional Champions; structure supports players to also play with their high school team

– Elite 64: U13+ starting the fall of '22 will feature the top 64 clubs splitting the U.S. into 8 groups of 8 clubs; teams compete in finals and showcase with the winners advancing to the USYS Champions Cup; partnership with STATSports and ProScore help showcase players to college and professional clubs in the U.S. and international

– MLS NEXT: sitting under the MLS program, it is considered to be the top established boys soccer club and player development experience in the U.S. and Canada with 133 clubs, 590 teams, 11+K players

– ODP: Olympic Development Program identifies a pool of players from which a National Team will be selected for international competitions; quality and competitive intensity varies by region and other programs may offer more elite playing opportunities (e.g., ECNL girls and MLS NEXT boys)

– League Championship: an extension of the USYS Eastern Regional Championships including the Club Championship League (CCL), the Long Island Junior Soccer League (LIJSL), the National Capital Soccer League (NCSL) and the New England Club Soccer League (NECSL)

– Club (U11+) and Rec (U6+): availability depends on region, offers soccer with limited commitment and travel, The United Cup offers a state level championship tournament and The President's Cup for a national title (see your local State League for programs)
Other programs
– U.S. Soccer Development Academy (DA): U13 – U19 boys
and girls Development Academy aligned under MLS and NWSL
USSSA DPL: U11+ supplement league for the DA
USL Academy: (USLA): U11+ elite youth platform to feed into the USL Championship, League One and League Two
Elite Academy (EA) mixture of boys high-level and up-and-coming clubs providing elite clubs a standards based league; provides another pathway for clubs that already have MLS NEXT or ECNL teams


Club/Rec:
AYSO emphasizes fun programs and offers a broad range of recreational and competitive soccer starting with the Playground program for 3
year olds and up
SAY Soccer also emphasizes fun in their soccer programs offering recreational, academy, and premier levels of youth soccer
U.S. Youth Soccer Leagues - Girls. Competitiveness varies greatly by region.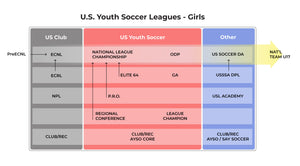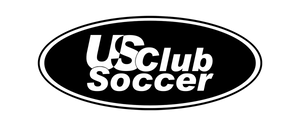 U.S. Youth Soccer Girls: US Club
2nd largest youth soccer league in the U.S., registration is done at the National level and includes local, regional, and national leagues; focus is on "Player First" emphasizing the development of each individual to his/her full potential. iD2 National Identification and Development Program helps elite youth soccer players be identified, developed, and scouted for the U.S. Soccer's National Team programs
– ECNL Girls: U13+ Elite Clubs National League is considered the top girls program in many areas of the U.S.

– ECRL Girls: ECNL Regional League offers a lower commitment and travel

– preECNL Girls: new program for U11+

– NPL: U11+ National Premier League provides aunified league for boys and girls under one national competition platform

– Club (U11)+ and Rec & Super rec (U6+) availability depends on region; limited commitment and travel and Super Rec can receive player passcards if so desired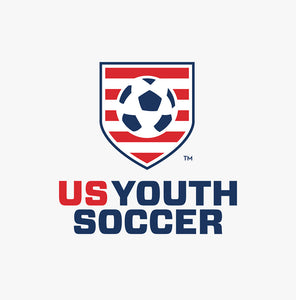 U.S. Youth Soccer Girls: USYS
The largest youth soccer program in the U.S., each state runs their own "State League" which qualifies into the Regional Level and then the National League; focus is on team first and "Earning your place" for your team
National League Championship U13+ regarded by many as the most prestigious national youth soccer tournament in the U.S.
with 185K players on over 10K teams competing nationwide with the final Championship an opportunity for top collegiate coaches to scout top talent

– Regional Conferences: U13+ 1 Conferences provide the primary league competition for teams Regional Championships, top 4 Regional Champions compete in the Nat'l Championship

– P.R.O.: U14+ top 48 teams in the prior season's Conference qualify (12 per 4 regions), teams
compete in groups of 6 with top 2 going to Nat'l Championship with the 4 Regional Champions; structure supports players to also play with their high school team

– Elite 64: U13+ starting the fall of '22 will feature the top 64 clubs splitting the U.S. into
8 groups of 8 clubs; teams compete in finals and showcase with the winners advancing to the USYS Champions Cup; partnership with STATSports and ProScore help showcase players to college and professional clubs in the U.S. and internationally

ODP: Olympic Development Program identifies a pool of players from which a National Team will be selected for international competitions; quality and competitive intensity varies by region and other programs may offer more elite playing opportunities (e.g., ECNL girls and MLS NEXT boys)

GA: Girls Academy is a growing youth development platform for the best female soccer players in the U.S. and will have 80+ member clubs in the '21-'22
season, sanctioned by USSSA with recent strategic ties to USYS and MLS Academy

League Championship: an extension of the USYS Eastern Regional Championships including the Club Championship League (CCL),
the Long Island Junior Soccer League (LIJSL), the National Capital Soccer League (NCSL) and the New England Club Soccer League (NECSL)

Club (U11+) and Rec (U6+): availability depends on region, offers soccer with limited commitment and travel, The United Cup offers a state level championship tournament and The President's Cup for a national title (see your local State League for programs)
Other programs
U.S. Soccer Development Academy (DA): U13 – U19 boys and girls Development Academy aligned under MLS and NWSL
USSSA DPL: U11+ supplement league for the DA
USL Academy: (USLA): U11+ elite youth platform to feed into the USL Championship, League One and League Two


Club/Rec:
AYSO emphasizes fun programs and offers a broad range of recreational and competitive soccer starting with the Playground program for 3
year olds and up
SAY Soccer also emphasizes fun in their soccer programs offering recreational, academy, and premier levels of youth soccer
Check out our shop for a variety of formation bands and accessories